WARMEST YEAR EVER RECORDED IN THE HAURAKI GULF
The warmest year ever recorded in the Hauraki Gulf was 2020. The average sea surface temperature (SST) for the year was 22.2°C, which was 1.2°C above the long-term average. This was the highest SST ever recorded in the Hauraki Gulf since records began in the late 1800s.
The University of Auckland has been taking daily sea surface temperature measurements in New Zealand's oldest marine reserve at Te Hāwere-a-Maki – Goat Island since 1967. This makes it one of the longest coastal temperature records in the southern hemisphere and provides a unique and long-term perspective on how water temperatures are changing in the Hauraki Gulf, Tikapa Moana. Based on this long-term data set, 2022 has been the warmest year in the 56-year record – by quite some margin! 
Dr. Nick Shears, from the University of Auckland, looks after the collection of long-term daily temperature records at Goat Island and is sharing with us the most up-to-date data and analysis, which reveals a dramatic upward trend over recent years.
According to the Gulf Journal we are getting Longer and warmer
The long-term data unveils that 2022 was a record-breaking year on many levels. The mean temperature at Goat Island in 2022 is looking to be about 0.3oC higher than the previous warmest year, which was 1999. We have also seen record-high temperatures for six months of the year (March, April, May, July, August and September). In general, we are observing the greatest rates of long-term warming over the autumn-winter period (April-July).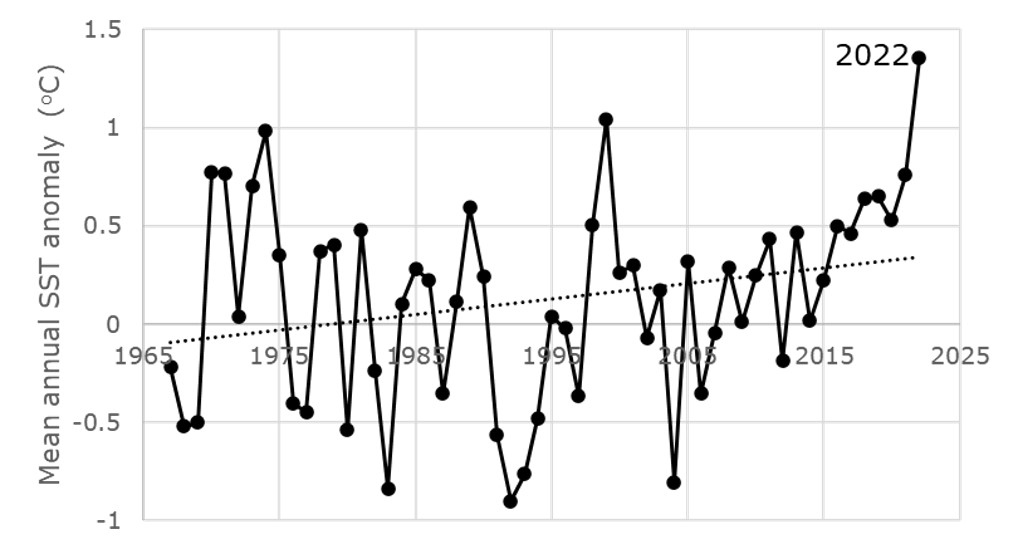 Water temperatures at Goat Island were in near continuous marine heatwave conditions from November 2021 to November 2022. Over this period, 339 days were classified as marine heatwaves, including the two longest marine heatwaves ever recorded, a total of 117 and 137 consecutive days. Prior to that, the longest marine heatwave in the Gulf was in 2016, and it lasted 65 days.